Maserati Service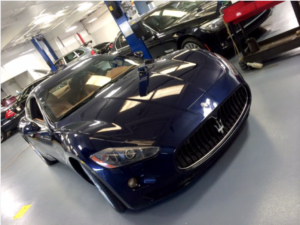 Atlanta Maserati Service & Repair in Marietta GA
Deciding where to bring your European Exotic vehicles for service & repairs is never an easy decision. If you're like most Maserati owners, you're pretty selective on who you let touch your vehicle. That's why Select Luxury Service offers only the highest quality in both customer and luxury vehicle service.
When you come to Select Luxury Service, you can expect the best. The best treatment, the best quality, and the best prices. We compete with dealerships by delivering the quality you expect from an Atlanta franchise Maserati store, for the price you'd expect from an aftermarket shop. From the very first service, you'll be hooked!
When it comes to luxury parts, we've got you covered. Our parts come from only the highest quality U.S. and Italian suppliers. When it comes to Maserati, we speak fluent Italian.
We didn't make any compromises on the equipment that we perform our Marietta Maserati Service & Repairs with. Alignments are performed on our top of the line Hunter Alignment Machine. We invested in this high end machine to ensure your vehicle gets that perfect alignment every time.
Our diagnostic equipment can diagnose and reset any prospective problem your exotic vehicle may be having. Coupled with high quality diagnostic equipment, our master technicians will have no problem diagnosing any problem you set before them.
Routine maintenance on your Maserati is one of the most important aspects to your vehicle's performance. The professionals at Select Luxury Service know exactly what your vehicle needs at its mileage and/or time exotic service intervals. Get in touch with a service advisor today and find out exactly what your vehicle needs!
Service intervals on Maserati's depend on the make, model, and year of your vehicle. We usually recommend routine maintenance every year or every 6k miles, whichever comes first. The reason for this is that such an exotic vehicle requires proper care to maintain your investment. Lack of maintenance can lead to failed components and decreased performance, something counter-intuitive to owning an exotic vehicle!