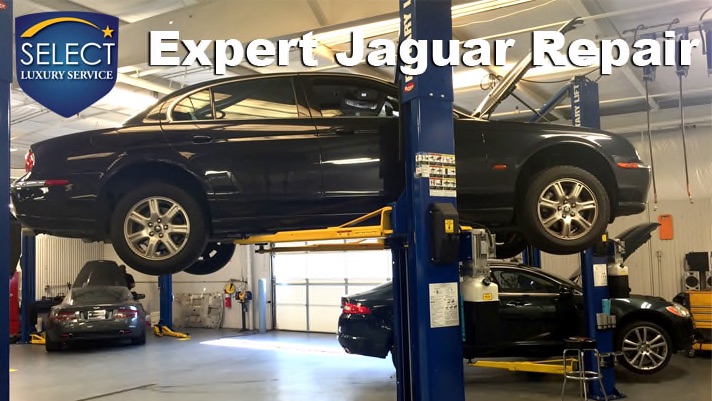 The Master Technicians here at Select Luxury Service speak Jaguar. So when you have an issue with your vehicle, we understand. Whether it's service, maintenance, diagnostic, or anything in between our professionals will have you covered at a price you'll love!
Jaguar Equipment and Tools
Our Atlanta & Marietta area Jaguar repair facility has capabilities that far exceed the usual independent Jaguar shop. Couple factory diagnostic tools with the knowledge of our technicians and you'll see why our customers keep telling us that we do Jaguar better than the dealer. In addition to updated and thorough diagnostic capabilities, we also have tools required to perform top of the line Jaguar Service. This includes a full breadth of tools that fit Jaguar parts, and dealer quality alignment equipment & lifts. All this at a price that, depending on the service, is between 10-30% less than the dealer!
Quality of Our Parts
The quality of our Jaguar service is only as good as the quality of the parts we use to perform the service. At Select Luxury Service, we use OE and OEM Jaguar parts to perform our services and repairs. We also give you the option to request a particular brand, if you have ultra high performance on your mind. Our pros know what parts work best with your vehicle, and we work to maintain your vehicle's engine, transmission, braking system, etc at an original factory level.
All of our parts also come standard with a world class 12,000 mile / 12 month warranty. If you have any issues with the part that we sourced and installed on your vehicle, bring the luxury vehicle back within this time period and we will diagnose and fix the issue at no additional cost to you.
Please contact us for your appointment today!
Jaguar Models We Maintain
Our Marietta based shop works on a broad range of models at any age. If you have a luxury car manufactured before 1998, please call ahead to confirm we have the tools!
  Models We Maintain  
  XJ
  XK
  X-Type
  S-Type
  XJR
  XJS
  XF
  F-Type
 -And More!